Top Five Health and Safety Surveillance Cameras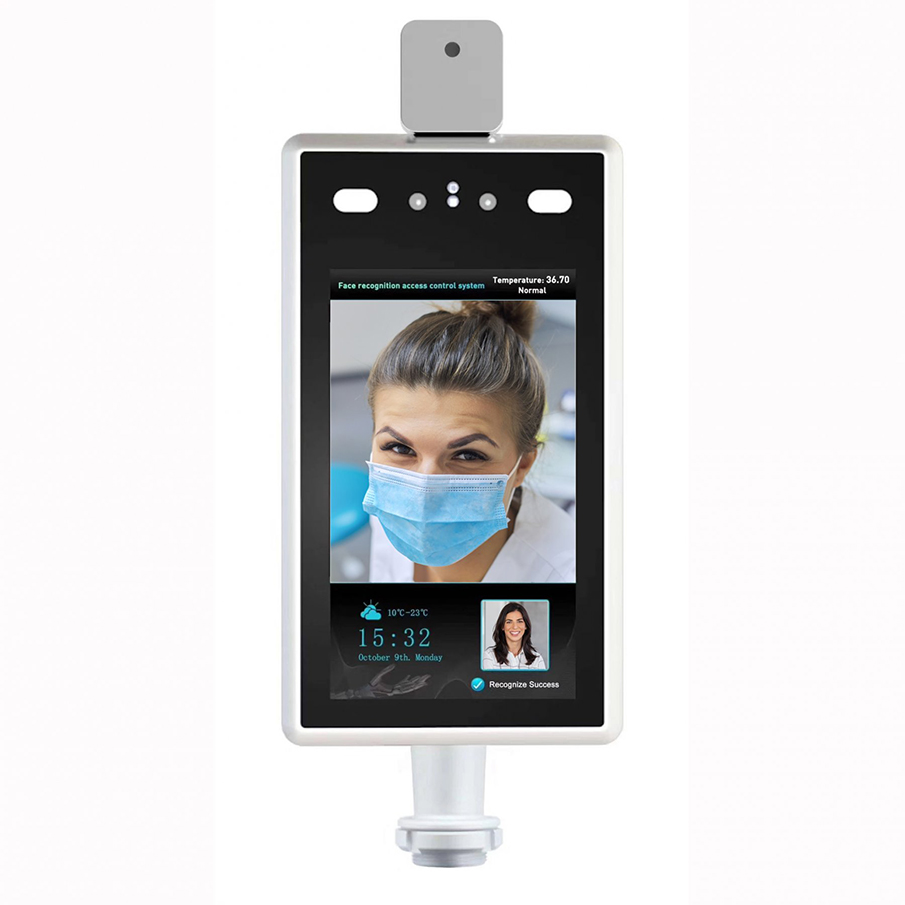 In just a few short months the businesses we used to walk casually into have changed. Some have limited hours and require masks. Others have been unable to reopen because of an inability to make customers and employees feel safe. Everyone has been affected by the virus' impact on the world including KJB Security. In late March we began searching for and testing a new kind of security equipment: the kind of camera that makes us feel safe against an intruder we can't see. Our security equipment line expanded beyond spy and surveillance to Health and Safety. Here are our Top Five health and safety devices:
1) The Body Temperature Scanner Camera - TMT2. This camera is the workhorse of our health and safety fleet. In less than a second it scans for abnormal temperatures, prompts a user to wear a mask, and uses facial scanning to log that person's presence in a facility. It's perfect for access control at warehouses, large factories or processing plants. It can also become an all-in-one sanitation kiosk by adding a 4 foot stand and hand gel dispenser (TMT2CSD)
2) The Industrial Hands Free Body Thermometer - TMT3. As businesses like retail and hospitality began to welcome back customers we realized they needed a rapid-fire temp check device. The TMT3 is up to 3 times faster than a handheld thermometer. It has an audible warning for abnormal temperatures and can be attached to access control.
3) The Touchless Thermometer with Hand Sanitizer Station - TMT3HS. Following in the footsteps of both TMT2 and TMT3 the Thermometer with Hand Sanitizer Station both checks temperatures and offers a quick squirt of hand gel. It can easily be mounted near the entrance points of a lobby, classroom, or office. Like the TMT3 it is up to 3 times faster than a handheld thermometer.
4) The Thirty Person Thermal Image Body Temp Scanner - TMT30. When concern about large gatherings contributing to the spread dawned across the business landscape it became obvious there needed to be a device that could scan crowds for symptoms. We introduced the TMT30. It can scan up to thirty people simultaneously. It does not use facial recognition but does sore records of individuals entering a space to help with contact tracing.
5) Rounding out our top 5 device line-up is not a camera or thermometer but all the accessories that make these health and safety surveillance cameras easy to add to your business. The TMT2 can be attached to an available desktop, 2 foot or 4 foot stand. The TMT3 and TMT3HS can be attached to a 4 foot tripod. And the TMT30 INCLUDES a 4 foot tripod.
While we adjust to a new normal in the time of coronavirus the best way we can reclaim our freedom is to limit our exposure through social distancing and staying home. But when we can't do that, devices that check temperature, maintain crowd control, and station hand sanitizer every few feet can make the public environments we frequent a safer place to be.
Newsletter
Subscribe to our weekly newsletter.