iProtect 3-Band RF Detector
https://www.kjbsecurity.com/shop/counter-surveillance/rf-gps-detection/iprotect-3-band-rf-detector
Share this product beyond Facebook and Twitter!
Copied!
This product was viewed 19 times within last hour
The iProtect 1216 is a professional RF detector created for discovering all types of RF eavesdropping devices, including analog and digital, as well as those that transmit information over mobile networks and using wireless standards.
Not an authorized dealer? Click here and apply today!



iProtect iProtect 3-Band RF Detector (DD1216)

The iProtect 1216 is a professional RF detector created for discovering all types of RF eavesdropping devices, including analog and digital, as well as those that transmit information over mobile networks and using wireless standards.
Description
Key features
3-band detection

The frequency range of the 1216 has been split into 3 parts, each displayed by a separate bargraph: "VHF/UHF 50-700 MHz", "Mobile and wireless 700 MHz – 3 GHz" and "Microwave and wireless 3-12 GHz". The separate indication allows the operator to understand better what type of signal is detected, to detect several signals at the same time and to sustain the ability of detection near the sources of interference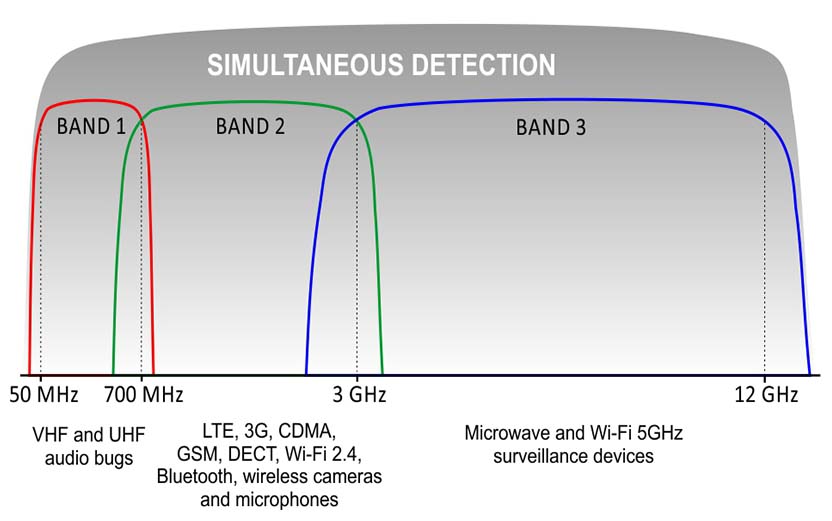 Microwave

The third "microwave" band of the iProtect 1216 covers the 3-12 GHz frequency range. This band detects Wi-Fi and other wireless protocols operating at 5 GHz and on any higher frequencies. The microwave frequencies are supposed to be more covert since they are not detectable by common RF detectors. The iProtect 1216 finds these signals easily

Alarm

The Alarm feature helps the operator to reject background interference by adjusting the threshold. When a signal exceeds the alarm threshold the device produces an alerting sound. The Alarm is also extremely convenient when probing hard-to-access places or keeping the device in the "guarding" state. The alarm threshold has 48 tuning steps

Histogram

In the ONE BAND display mode the iProtect 1216 shows the histogram for the selected band in addition to the bargraph. The histogram draws the history of the signal obtained over the last 5 seconds and is very informative when observing intermittent/periodical signals or when probing the area quickly

Wi-Fi and 3G, 4G LTE

The iProtect 1216 has a significantly higher sensitivity to the 3G, Wi-Fi and Bluetooth bugging devices compared to conventional RF detectors. This advantage was achieved with the help of the additional radio frequency paths in the circuit dedicated to the specific frequency spans

Signature

In addition to drawing a bargraph the iProtect 1216 can identify some types of signals and show a corresponding message on the display: cordless DECT device in an "idle" state, active DECT device, GSM, 3G, Wi-Fi/Bluetooth
Detects all types of RF transmissions including analog and digital, audio and video
Frequency range 50 MHz – 12 GHz
Separation into 3 bands helps to avoid loss of sensitivity near strong interference
ALL BANDS and ONE BAND display modes
High sensitivity to 3G and wireless protocols (Wi-Fi, Bluetooth, etc.)
Working modes: SILENT, AUDIO and ALARM
Adjustable alarm threshold
Portable, reliable and easy-to-use
The BARGRAPH shows the momentary RF level
The HISTOGRAM displays the RF signal over 5 seconds (in 'ONE BAND' display mode)
The SIGNATURE displays the possible signal type
Built-in directed microwave antenna
Shock-resistant CNC milled duralumin housing
Rechargeable Li-Ion battery with resource of 6 hours
Controlled by microcontrollers
2x built-in OLED displays
Specifications
Frequency Range: 50 MHz – 12 GHz, Band 1: 50 – 700 MHz, Band 2: 700 MHz – 3 GHz, Band 3: 3GHz – 12 Ghz
Charging Port: USB
Battery Recharge Time: 4 hours
Battery: Rechargeable Li-Ion 1150mAh @ 3.7v
Microwave Antenna: Built-in (band 3)
RF Connector: SMA (band 1 & 2), 50Ohm
Display Modes: All Bands, One Band
Indicators: Main Display & Status Display
Dimensions: 0" L x 0" W x 0" H
Operating Temp: 14-113 deg F
Weight: 0
Signal Detection
Analog Signals
Digital Signals
3G
4G
GPS
Bluetooth
Wi-Fi
LTE
Downloads
Included
Detector
Rod Antenna
Mini-USB Charging Cable
Shipping & Returns
KJB Security Products considers any item returned to our warehouse a "Return." This includes unclaimed packages that were shipped to buyer and returned for any reason, i.e. signatories not available, not claimed, etc. KJB Security is not responsible for any error in our customer's instructions. You must request a RMA number before returning any item.
All returns must have an RMA (Return Merchandise Authorization) Number
Products returned without an RMA may get lost in the process, thereby inhibiting us from crediting, repairing or replacing your return. Please follow these simple instructions so we can process your return quickly and effectively. KJB Security Products will not accept debits for merchandise, all merchandise must be returned and evaluated.
To request an RMA# please call or email our Customer Service Department. This will determine if you need to return the product, all returns are usually sent directly to our warehouse. Please ensure that the item is in its original condition (including: packaging, manuals, warranties, accessories, security seals, and shrink wrap). We must receive your item back within 20 days of when we issue the RMA. Please allow us 5 - 10 business days from the time we receive the item to process your return.
Note: merchandise returned with missing items are not eligible for a refund. For your protection, we recommend that all returns be sent back via traceable carrier. The customer must pay all costs related to return shipping. After receiving and inspecting the returned merchandise, we will determine the course of action; credit, repair or replacement. A 15% restocking fee may be applicable on any unused items
Non-Defective Returns
Require PRIOR approval and a valid RMA Number. AFTER you are given a RMA number, you may return most non-defective, un-used items for a refund of the product cost less a restocking fee of 15%. Shipping cost is non-refundable. Full credit can be issue for items returned in 30 days after purchase. IF after 30 days,it is subject to KJB discretion to issue credit. Full credit can only be issued on items that are new and unused.
When requesting credit on items that are not defective we will issue an in house credit to your account to use towards your next purchase
Defective Returns: KJB stands behind all products sold. Items assembled by KJB Security products carry a Limited Warranty of One (1) Year. Merchandise distributed by KJB carry a Ninety Day (90) Limited Warranty. All warranty coverage starts from date of purchase by the ultimate customer. Proof of Purchase may be requested by KJB. See our Terms and Conditions of Sale for more information on KJB's Limited Warranty. KJB will determine if the item is in fact defective upon receipt and inspection, at no time can any item be replaced before the item in question is returned and inspected. If the item shows signs of misuse, abuse or failure to follow instructions it will not be accepted for warranty consideration. Items returned, that are being claimed as defective or damaged, WILL BE SUBJECT to a 15% restocking fee if they are found to be in working order. Please insure your customers read the manual.
We can not accept the return of certain items for credit, including
Open or used products
Special order products
Fees for service performed or shipping
Single use products such as pepper spray
Custom built products such as Hidden cameras
Activated GPS Tracking devices
Counter-surveillance detectors
All Sales on the above listed items are final.
Health & Safety Products
To be eligible for a return, your item must be unused in its original unopened packaging and returned within 14 Days from date of sale. If 14 days have gone by since your purchase, unfortunately, we cannot offer you a refund or exchange. Due to health and safety precautions, used items CANNOT be returned for exchange or refund.
Exchanges
We only replace items if they are defective or damaged during shipping. If you need to return to exchange for the same item contact Customer Support. All Health & Safety product returns are subject to final inspection upon receipt.
You May Also Like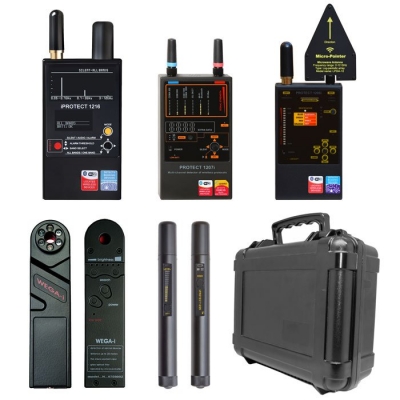 Counter Surveillance Kits
Newsletter
Subscribe to our weekly newsletter.